Confidential Cures
Newsletter
Description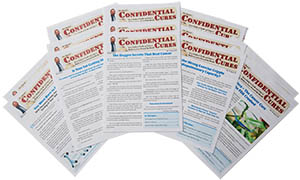 Be the First to Know About Cures I've Discovered Around the World…and How They Can Keep You Strong and Energetic for Life
I'm inviting you to join my inner circle and start your membership in Confidential Cures: Truth and Lies in Medicine from Around the World.
Join today and you'll be the first to know about my latest discoveries from my travels, and how you can use them – including the latest breakthroughs for conquering heart disease, beating the forms of cancer still running wild, clearing arthritis right out of your joints, and more.
Click here for a limited time offer!
VIP Platinum Membership: $99.95
Gold Membership: $49.95