If you're serving roasted turkey for dinner, you made a delicious and healthy choice.
But if you're like most people, you end up throwing away the most nutritious part of the bird!
I'm talking about the giblets.
Those small pieces of organ meat tucked up inside the body cavity of a whole turkey or chicken. Normally, a bag of giblets includes the heart, liver, kidney, neck and gizzards.
And they are some of the best sources of nutrition we no longer eat in our modern diet.
They're part of what I call the missing food group…
These organ meats helped our ancestors thrive in the most challenging conditions. And allowed us to become the humans we are today.
Your body evolved to derive nutrients from almost every part of an animal. When your primal ancestors went hunting, nothing of what they caught was wasted. They ate pretty much everything.
From nose to tail, brain to bones, they devoured it all. In addition to giblets, these forgotten superfoods include:
Organ meats like liver and kidney
Connective tissue
Bone marrow
Skin
Cartilage
Oxtail
Gristle
Pig's feet
Organ meat, in fact, is one of the richest sources of vital nutrients anywhere. And your ancestors ate plenty of it. This is what gave their bodies the strength and power to stave off diseases that were rare in their day.
Diseases like diabetes, heart disease, dementia and cancer.
In fact, until only recently it was well-known that eating organs from a healthy animal supported the organs or the person eating them.
For example, in traditional cultures and tribes around the world, it was common to treat a person suffering from heart disease by feeding them heart meat.
And eating the brain of an animal was known to boost brain power and support clear thinking.
Our ancestors may not have known why this worked but today we do. Let me explain…
Heart (and all organ meat) is full of the antioxidant CoQ10.
This high-octane fuel is used by every cell in your body. But it's especially important to energy-hungry organs, like your heart.
A recent long-term study found that those who consumed at least 300 mg of CoQ10 a day were significantly less likely to die from heart failure, less than half as likely to die from any cause at all, and half as likely to have a heart attack.1
Brain contains a high amount of omega-3 fatty acids. But fortunately, so are other more palatable organ meats like kidney.
This essential fatty acid is necessary for almost every part of your body to function properly — including your heart, lungs, nerves, joints, eyes and brain. You see, the brain is almost entirely made up of fat — 60% of which is a fatty acid called DHA. And numerous studies show that high levels of DHA radically improve brain function2 and prevent brain shrinkage.3
Other important nutrients in this missing food group include vitamins A, D, E and K, B vitamins like B12 and folate, iron, magnesium, selenium and zinc.
Try My Grandmother's Easy Giblet Gravy
It's not easy to find giblets for sale in your supermarket. If you buy your poultry from a local butcher or family farm, you can ask that they put the giblets aside for you as they prepare meat for other customers. Or you can freeze whatever you remove from a bird and stockpile it in the freezer until you have enough.
But if you're looking for a way to include this missing food group into your Christmas dinner, I recommend making a traditional giblet gravy. This is an easy recipe similar to what my grandmother made.
Ingredients:
Giblets (from a free-range turkey or chicken)
4 cups cold water
4 Tbsp. butter
4 Tbsp. coconut flour
2 cups pan drippings (or turkey broth)
1/2 cup whole milk (or half-and-half)
1/2 tsp. salt
1/2 tsp. freshly ground black pepper
Directions: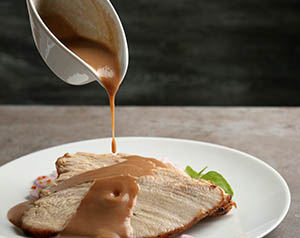 Giblet gravy is a great way to introduce this missing food group to your family.
Remove the liver for the time being.
Place the remaining giblets into a pan. Cover with 4 cups cold water and bring to a boil. Reduce the heat to low and simmer the giblets for about 1 1/2 to 2 hours. At this point add the liver to the saucepan and simmer for another 30 minutes.
Place a mesh strainer or colander over a bowl. Drain the giblets and set the liquids aside to use in the gravy, if needed. Let the giblets cool. Remove the meat from the neck and chop with the rest of the meat.
Melt the butter in a heavy saucepan and stir in the coconut flour. Cook and stir for 3 to 5 minutes, or until it starts to turn golden.
If you don't have drippings from a roasted turkey or chicken, or if you only have a small amount, add the giblet broth or chicken or turkey stock to make 2 cups. Slowly stir in the drippings and/or broth into the pan. Add the milk or half-and-half. Continue cooking and stirring until thickened.
Stir in the chopped giblets, salt and pepper and serve.
To Your Good Health,
Al Sears, MD, CNS
---
References
1. Mortensen SA, et al. "The effect of coenzyme Q10 on morbidity and mortality in chronic heart failure. Results from the Q-SYMBIO study." JACC Heart Fai. 2014;2(6):641-649.
2. Bourre JM. "Effects of nutrients (in food) on the structure and function of the nervous system: update on dietary requirements for brain. Part 2: macronutrients." J Nutr Health Aging. 2006;10(5):386-399.
3. Pottala, JV, et al. "Higher RBC EPA + DHA corresponds with larger total brain and hippocampal volumes: WHIMS-MRI study." Neurology. 2014;82(5):435-442.
---