Mainstream medicine will tell you that diabetes can't be reversed. That once you have the diagnosis, you'll be on Big Pharma's drugs for the rest of your life.
But I've helped enough diabetic patients to know that this modern-day condition is 100% reversible.
My patients have reversed their diabetes using an all-natural approach, including plant therapies like bitter melon, Gymnema Sylvestre and Ceylon cinnamon.
And the latest research is shining a light on another plant remedy.
A new study found that this spice, originally from Indonesia's Maluku spice islands, "significantly decreased the blood glucose levels and increased the levels of serum insulin." 1
This backs up earlier research that found this common cooking ingredient activates your body's metabolic master switch. More on that in a moment…
The fragrant spice I'm talking about is nutmeg.
In the study, researchers divided 48 diabetic or non-diabetic Wister rats into groups. For 28 days, the rats received either the diabetes drug metformin or an oral dose of nutmeg extract.
The results showed not only dramatically lower levels of blood insulin in the diabetic animals, but reduced oxidative stress and a significant increase in pancreatic beta cells. Beta cell dysfunction is a key factor in diabetes and pre-diabetes.
But the unique compounds in this overlooked spice can also activate AMPK…2
AMPK — or 5′ AMP-activated protein kinase — is a very important enzyme in your body. It works kind of like a traffic cop by moving excess sugar and fat into your cells to be burned as energy.
When you're young, AMPK keeps your metabolic functions running smoothly. This helps you stay slim and disease-free. But as we age, AMPK signaling declines. This can quickly lead to an excess buildup of blood sugar, chronic inflammation, increased abdominal fat and insulin resistance.
In other words, the ideal conditions for type 2 diabetes.
But when AMPK is activated, incredible things happen.
Your cells leap into survival mode. Your body no longer stores new fat. Instead, it burns the fat it's been storing. It also boosts insulin resistance and pumps glucose into cells from the blood.
That makes AMPK a powerful weapon against diabetes.
And that's reason enough to include nutmeg in your diet. But this fragrant spice does so much more. Peer-reviewed studies found that nutmeg:3,4,5,6,7,8,9,10
Acts as an anti-inflammatory
Relieves pain
Reduces heart disease
Improves mood
Boosts libido
Treats insomnia
Slows cognitive decline
Protects the liver
The best way to get the benefits of nutmeg is to cook with it. This spice works with both sweet and savory dishes. I like using it in stews, meat rubs, custards and even pasta.
You can purchase nutmeg either as a whole seed or as a powder. I recommend getting whole nutmeg and grating it yourself. Most of the health benefits come from the seed's essential oils. And when you buy powder off the shelf, only a trace amount of these oils remain.
Nutmeg Ginger Tea

The easiest way to take nutmeg is in a cup of ginger tea. Here's the simple recipe I use:
Ingredients: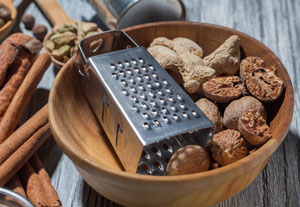 Buying whole seed nutmeg and grating
it yourself keeps the beneficial
essential oils intact.

1 tsp. freshly ground nutmeg (do not exceed 1 tsp. as some people have sensitivities to it)
5 large, thinly sliced pieces of fresh ginger
1 tsp. Ceylon cinnamon
1½ cup water
¾ tsp. tea leaves (or 1 teabag)
3 Tbsp honey
Directions:
Combine the nutmeg, cinnamon, ginger and water in a pot and bring to a boil for three to four minutes.
Add the tea and turn off the heat.
Let stand for a couple minutes, then pour through a strainer into your cup.
Add honey and enjoy.
To Your Good Health,
Al Sears, MD, CNS
---
1. Pashapoor A, et al. "Ameliorative effect of Myristica fragrans (nutmeg) extract on oxidative status and histology of pancreas in alloxan induced diabetic rats." Folia Morphol (Warsz). 2020;79(1):113-119.
2. Nguyen P, et al. "AMP-activated protein kinase (AMPK) activators from Myristica fragrans (nutmeg) and their anti-obesity effect."
Bioorg Med Chem Lett. 2010;20(14):4128-4131.

3. Abiyrasged E and Ek-Alfy A. "Chemical diversity and pharmacological significance of the secondary metabolites of nutmeg (Myristica fragrans Houtt.)." Phytochem Rev. 2016;15(6):1035-1056.
4. Zhang W, et al. "Nutmeg oil alleviates chronic inflammatory pain through inhibition of COX-2 expression and substance P release in vivo." Food Nutr Res 2016;60:10.3402.

5. Onyenibe N, et al. "African nutmeg (monodora myristica) lowers cholesterol and modulates lipid peroxidation in experimentally induced hypercholesterolemic male Wistar rats." Int J Biomed Sci. 2015;11(2):86-92.

6. Dhingra D and Sharma A. "Antidepressant-like activity of n-hexane extract of nutmeg (Myristica fragrans) seeds in mice." J Med Food. Spring 2006;9(1):84-89.

7. Tajuddin, et al. "An experimental study of sexual function improving effect of Myristica fragrans Houtt." BMC Complement Altern Med. 2005;5: 16.

8. Sherry CJ, et al. "The pharmacological effects of a ligroin extract of nutmeg (Myristica fragrans)." J Ethnopharmacol. 1982;6(1):61-66.

9. Cui C, et al. "Macelignan attenuates LPS-induced inflammation and reduces LPS-induced spatial learning impairments in rats." Neurosci Lett. 2008;448(1):110-114.

10. Yang X, et al. "PPARα mediates the hepatoprotective effects of nutmeg." Proteome Res. 2018;(17)5:1887-1897.