Most doctors still don't recommend curcumin, despite all the amazing benefits.
Such as a physician who wrote a Harvard Health Publishing article on curcumin.
It described a study of 139 patients suffering from osteoarthritis of the knee. He admitted that the research found curcumin was AS EFFECTIVE as nonsteroidal anti-inflammatory drugs (NSAID) – but without dangerous side effects and the added bonus of weight loss.
Then, after listing all the benefits curcumin has on arthritis pain, he went on to say he doesn't recommend its use! He said the study was "small" and "only knee osteoarthritis was studied." He concluded by saying weight loss isn't beneficial for people who don't need to lose weight!
This goes against everything I believe in. And as long as I'm a doctor, I'm going to keep telling you about natural treatments and therapies that can protect your health and your life.
Like curcumin.
Along with the study cited by the Harvard Health doctor, another brand-new study demonstrated that curcumin is more effective at reducing knee pain in patients with osteoarthritis than the placebo.1
This study, published in the journal Annals of Internal Medicine, found that while curcumin doesn't inhibit inflammation itself, it does block the cytokine overload that causes inflammation.2
This research is just the latest on curcumin's anti-arthritis benefits… To date, there's been over 250 studies proving its effectiveness on arthritis pain and inflammation. Curcumin reduces arthritis joint pain by 60% and joint swelling by 73%, according to a double-blind, placebo-controlled study.3
And it turns off your body's nuclear factor-kappa B (NF-kB) molecule. This molecule activates more than 400 proinflammatory genes that cause pain. Curcumin deactivates this molecule.4
But it's not just arthritis pain and inflammation. Additional studies show curcumin:
| | |
| --- | --- |
| • Protects and enhances your memory in just three months5 | • Halts the onset of type 2 diabetes with 100% success7 |
| • Eliminates symptoms of hard-to-treat depression6 | • Targets cancer cells and slows their replication8 |
Conquer arthritis pain with turmeric tea
Curcumin comes from the turmeric root. I like adding it to different recipes. But one of my favorite ways to enjoy it is in a soothing glass of tea. Here's an updated version of my popular recipe. It includes creamy coconut milk and exotic spices. The black pepper gives a spicy kick and helps you absorb the curcumin, so be sure to put a pinch in your tea.
✓ 1 Tbsp fresh grated turmeric

✓ 1 Tbsp fresh grated ginger

✓ 3 Tbsp fresh lemon juice

✓ 1 pinch cracked black pepper

✓ 1 tsp raw organic honey

✓ You can also add a sprinkle of ground cardamom and ground cinnamon.

✓ 1 cup organic coconut milk (buy organic, full fat coconut milk in a bpa-free can)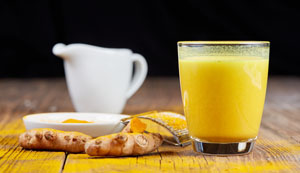 Turmeric tea is a delicious way to add curcumin to your diet.
Add ingredients to a saucepan and simmer over medium-high heat for three minutes. Turn off heat. Pour into a strainer over two glasses and enjoy.
It's not easy getting enough curcumin from your diet. So I suggest supplementing with 500 to 1,000 mg daily. But don't waste your money on curcumin that doesn't work…
You see, your body only absorbs about half the curcumin you take in. Look for a supplement with piperine (an extract from black pepper). Adding 20 mg of piperine can increase the bioavailability of curcumin by 2,000%.9
To Your Good Health,
Al Sears, MD, CNS
---
1. Shep D, et al. "Safety and efficacy of curcumin versus diclofenac in knee osteoarthritis: a randomized open-label parallel-arm study." Trials. December 2019. 20(1). DOI: 10.1186/s13063-019-3327-2
2. Wang Z, et al. "Effectiveness of curcuma longa extract for the treatment of symptoms and effusion-synovitis of knee osteoarthritis : a randomized trial." Ann Intern Med. 2020 Sep 15. doi: 10.7326/M20-0990. Online ahead of print.
3. Chandran B, Goel A. "A randomized, pilot study to assess the efficacy and safety of curcumin in patients with active rheumatoid arthritis." Phytother Res. 2012 Mar 9.
4. Jobin C, et al. "Curcumin blocks cytokine-mediated nf-κb activation and proinflammatory gene expression by inhibiting inhibitory factor i-κb kinase activity." J Immunol. 1999.163;(6):3474-3483.
5. Prior M, et al. "The neurotrophic compound J147 reverses cognitive impairment in aged Alzheimer's disease mice." Alzheimers Res Ther. 2013;5(3):25.Nature. 2016 Oct 6.
6. Sanmukhani J, et al. "Efficacy and safety of curcumin in major depressive disorder: A randomized controlled trial." Phytother Res. 2013;doi:10.1002/ptr.5025.
7. Chuengsamarn S, et al. "Curcumin extract for prevention of type 2 diabetes." Diabetes Care. 2012;35(11):2121-7.
8. Li Y, Zhang T. "Targeting cancer stem cells by curcumin and clinical applications." Cancer Lett. 2014;346(2):197-205.
9. Shoba G, et al. "Influence of piperine on the pharmacokinetics of curcumin in animals and human volunteers." Planta Med. 1998;64:353–6.