DR. SEARS'
PALM BEACH ANTI-AGING SUMMIT
Mar-a-Lago, Palm Beach, FL
You're about to see the most revolutionary breakthroughs in anti-aging medicine. Thirteen leading experts from around the globe, gathered to share their latest advancements in regenerative medicine.
Get ready to hear about astounding treatments that have regrown body parts… helped war heroes overcome life-threatening injuries… restored mobility in patients who were told they'd never walk again… saved a debilitated race horse from the glue factory by giving him his ability to run again… and so much more.
So sit back, relax and prepare to see how these advancements can change your life forever.
SUMMIT SPEAKERS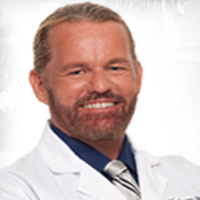 Dr. Al Sears, MD
Al Sears, MD is America's #1 anti-aging doctor. He's made it his life's work to challenge conventional medical beliefs and bring his patients the latest breakthroughs in natural cures and remedies to diseases once thought to be "incurable." Dr. Sears takes a fresh, novel approach to patient health and wellness. Our environment and food supply has changed for the worse — and it's affecting your health. He helps patients return to their "Native Health" and escape accelerated aging caused by modern toxins, pollutants, preservatives, chemicals and other hormonal threats you unknowingly face every day.
Every year, he travels over 20,000 miles to the most remote regions of the world searching for natural healing secrets unknown or ignored by mainstream medicine.
Since 1999, Dr. Sears has published 35 books and reports on health and wellness. He has millions of loyal readers spread over 163 countries.Today he writes and publishes two monthly e-Newsletters, Confidential Cures and Anti-Aging Confidential for Women, and a daily email broadcast, Doctor's House Call, with more than 500,000 subscribers. He has also appeared on more than 50 national radio programs, ABC News, CNN and ESPN.
Dr. Sears was one of the first to be board-certified by the American Academy of Anti-Aging Medicine (A4M). More than 25,000 patients travel from all around the world to visit him at the Sears Institute for Anti-Aging Medicine in beautiful Royal Palm Beach, Florida.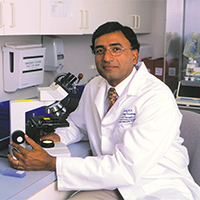 Dr. Dipnarine Maharaj
Dr. Dipnarine Maharaj, MD FACP, Medical Director of the South Florida Bone Marrow/Stem Cell Transplant Institute and Stem Cell Cryobank is regarded as one of the world's foremost experts on adult stem cells, adult stem cell banking and therapies. After earning his medical degree in Scotland, he worked on the team that pioneered autologous bone marrow transplantation for acute myeloid leukemia, and was subsequently recruited to setup the bone marrow/stem cell transplant program at the University of Miami. He has since developed innovative new protocols utilizing regenerative medicine and patients' own immune systems. Dr. Maharaj is also the Course Director for the CME accredited course, Advanced Stem Cell Education Program (ASTEP).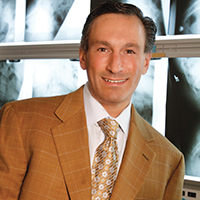 Dr. Charles S. Theofilos
As one of Palm Beach and St. Lucie County's top neurosurgery practices, the Spine Center offers spine concierge services and represents the forefront of cutting-edge spinal health where prevention is key to exploring and achieving the best possible outcome for all patients. The Spine Center delivers state-of-the-art treatment under the guidance of neurosurgeon and founder, Charles S. Theofilos, MD , who is a leading provider of the most comfortable and effective surgical, minimally invasive, and non-surgical treatment options for a full range of cervical and spinal ailments, including stem cell therapy and artificial disc replacement.
Dr. Theofilos, is one of just a handful of select neurosurgeons in the country, utilizing the latest cutting-edge technology for the treatment of back and neck pain — and the potential re-generation of spinal discs — using stem cells. This innovative three-step process may provide stem cells a better fighting chance to regrow cartilage in the often hostile environment of a damaged spinal disc.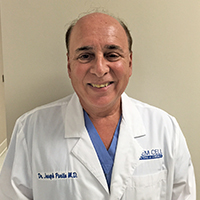 Dr. Joseph Purita
Dr. Purita is currently medical director of Institute of Regenerative and Molecular Orthopedics (www.stemcellorthopedic.com) and Stem Cell Centers of America in Boca Raton, Florida. The center specializes in the use of Stem Cells and Platelet Rich Plasma injections for use in sports medicine and other musculoskeletal conditions. Dr. Purita is a pioneer in the use of Stem Cells and Platelet Rich Plasma for a variety of orthopedic conditions which previously required surgery. The Institute has treated some of the most prominent professional athletes from all major sports in both the U.S.A. and abroad. Dr. Purita has lectured throughout the world.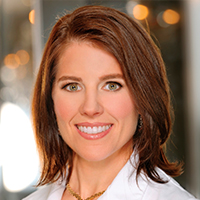 Kristin Comella
Ms. Comella is a stem cell scientist and expert in regenerative medicine. She has worked to develop stem cell therapies for a variety of indications. She is currently serving as the chief science officer of Bioheart Inc. and US Stem Cell Clinic. She was recently named No. 24 in the world according to Terrapin's list of the top 50 global stem cell influencers.
Dr. John Gray, PhD
John Gray is the leading relationship expert in the world and best-selling author of "Men Are from Mars, Women Are from Venus." Gray's books have sold over 50 million copies in 50 different languages around the world. In his book "Work with Me: The 8 Blind Spots Between Men and Women in Business" he teaches us how to achieve a more comfortable and productive work environment. John's new book "Staying Focused In A Hyper World: Natural Solutions For ADHD, Memory And Brain Performance" provides practical strategies for improving relationships at all ages and stages of life.
Through his highly acclaimed books, videos and transformational seminars, John's purpose is to create a world where men and women understand, respect, appreciate and ultimately work together. Liongsate/Summit Entertainment has purchased the rights to Gray's bestseller "Men Are from Mars, Women Are from Venus" with the intention of creating a feature film and TV series. Star Reese Witherspoon and commercial directing whiz Bryan Buckley joined the project with an anticipated release date of 2015. Gray has appeared on "Dr. Oz," "Suzanne Somers," "Oprah," "The Today Show," "CBS Morning Show," "Good Morning America," "The Early Show," "The View," "The Couch," "Fox & Friends Weekend," "Good Morning New York," CNN, "Politically Incorrect," "Larry King" and others. He has been profiled in Newsweek, Time magazine, Forbes, USA Today, TV Guide and People, among scores of other major programs.
Dr. Ward Dean
Dr. Ward Dean graduated from the U.S. Military Academy in 1967, and spent six years as an infantry officer (including a tour in Vietnam). He attended Hanyang University College of Medicine in Korea, and spent seven years as an Army Flight Surgeon, including three years with the Delta Force. He transferred into the Navy, from which he retired as a commander in 1996.
Dr. Dean served on the founding Board of Directors of the American Academy of Anti-Aging Medicine (A4M), was the first vice president of A4M, and organized A4M's first scientific program in Cancun, Mexico, as well as the first two Monte Carlo Anti-Aging Conference in Monaco. Dr. Dean's publications include Biological Aging Measurement – Clinical Applications, Smart Drugs & Nutrients, Smart Drugs II, and The Neuroendocrine Theory of Aging and Degenerative Disease.
Raymond Cralle, RPT
Mr. Raymond H. Cralle is a Physical Therapist with over 25 years' experience with hyperbaric oxygen in treating so-called off-label conditions such as stroke, cerebral palsy, athletic injury, memory-related issues, concussion, and autoimmune disorders. During the past 44 years, Mr. Cralle has held State and National offices with the American Physical Therapy Association, developed over 13 sports medicine centers in Florida, treating some of the world's most prominent athletes from Polo, NFL, NHL, Golf, Tennis, water sports, etc.
His long-standing interest in the brain and nervous system has resulted in his hyperbaric oxygen center being the first and only in the country to be approved by the Veterans Administration to treat military TBI and concussion. This "silent wound of war" is the silent wound concerning the National Football League and other sports teams including Youth Sports.
His talk today will focus on hyperbaric oxygen's effects on stem cells, biophysics of wellness, and healing.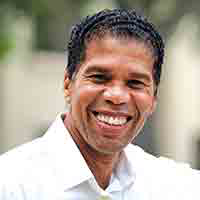 Dr. Patrick Leconte
Dr. Patrick Leconte graduated from the University of Florida College of Dentistry and has practiced dentistry for almost two decades. His almost exclusive focus on cosmetic dentistry has lead him to the in-depth study of the biology of the mouth which frame the smile. This guided him to the understanding of the intimate link between the mouth and the rest of the body.
Dr. Leconte is now committed to understand how the aging process of our mouth works and how it can be slowed, stopped and even reversed. He has designed powerful treatment protocols as well as maintenance modalities, integrating the latest technologies with ancient healing sciences.
His private practice, TranZenDental, is located in Palm Beach Gardens, Florida and provides a wide range of services from full mouth rehabilitation to bite equilibration, implants, dentures, gingival treatment, orthodontics and cosmetic dentistry.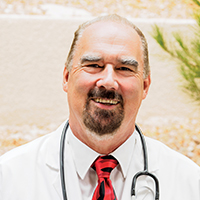 Dr. Keith Scott-Mumby
Dr. Keith Scott-Mumby received a Bachelor of Medicine and Bachelor of Surgery (MB ChB), which is the British equivalent of the American MD. He then departed into alternative healing medicine and studied alternative psychology and nutrition. The big shift came for him with explorations into the phenomenon of food allergy. He opened one of the world's first alternative allergy clinics in Manchester.
Prof. Scott-Mumby now writes and lectures internationally on the themes of energetic medicine and the new anti-aging science, which is his current forte. He has published over 20 groundbreaking books from antibiotic alternatives to the biggest medical breakthrough ever… and the surprising cause of most diseases.
To find out more visit: http://alternative-doctor.com
Dr. Bill Andrews
In his 32-year biotech career, he has focused the last 20 years on finding ways to extend the human lifespan and healthspan through telomere maintenance. As one of the principal discoverers of both the RNA and protein components of human telomerase, Dr. Andrews was awarded 2nd place as "National Inventor of the Year" in 1997. He earned his PhD in Molecular and Population Genetics at the University of Georgia in 1981. He is also a named inventor on 45 U.S. issued patents on telomerase and author of numerous scientific research studies published in peer-reviewed scientific journals.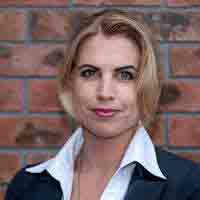 Elizabeth Parrish
Elizabeth Parrish, CEO of BioViva, is a humanitarian, entrepreneur, advocate and innovator. She is a leading voice for genetic cures. As a strong proponent of progress and education for the advancement of regenerative medicine modalities, she serves as a motivational speaker to the public at large for the life sciences. She is actively involved in international educational media outreach and sits on the board of the International Longevity Alliance (ILA). She is an affiliated member of the Complex Biological Systems Alliance (CBSA), which is a unique platform for Mensa based, highly gifted persons who advance scientific discourse and discovery.
AGENDA TOPICS