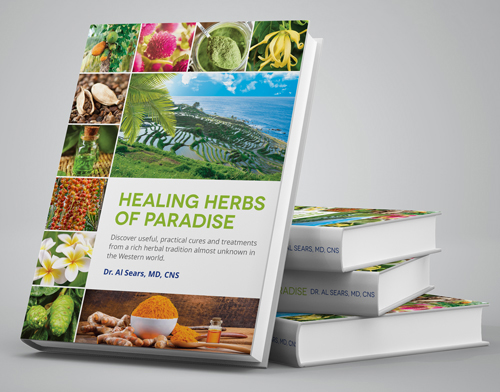 In Healing Herbs of Paradise, Dr. Sears reveals ancient cures and remedies discovered on the remote tropical island of Bali and shares them with the Western world for the first time.
Royal Palm Beach, FL., APRIL 14, 2016 – Al Sears, MD, (alsearsmd.com) America's leading pioneer in anti-aging medicine and published author of over 15 books, released his much-anticipated book, Healing Herbs of Paradise on April 14, 2016. (Hardcover, 325 pages, $59.95, available on alsearsmd.com). This beautiful coffee table book is full of striking photography and previously unknown knowledge about the curative and anti-aging qualities found in the exotic herbs and plants of Bali.
In Healing Herbs of Paradise, Dr. Sears explains in detail the healing benefits and properties of the Bali's tropical plants, fruits, and herbs. He states, "Every chapter will introduce the reader to one of Bali's many herbs. Some will be familiar – with unfamiliar uses. Others will be strange and new. Many have remarkable properties that Western science is only now discovering… centuries after Bali's healers understood their use."
Among the many highlights Dr. Sears' reveals in Healing Herbs of Paradise:
A brain-boosting fruit that also combats cancer
Herbs for increased heart strength
Plants that supercharge your immune system
Cancer-killing super leaves
Plants that can stop Alzheimer's in its tracks
And so much more
About Dr. Al Sears:
Dr. Sears' cutting-edge therapies and reputation for solving some of the most difficult-to-diagnose cases has attracted over 25,000 patients to his Florida clinic from all over the world.
As a graduate of the University Of South Florida College Of Medicine, Dr. Sears scored in the 99th percentile on his MCAT and graduated with honors in Internal Medicine, Neurology, Psychiatry, and Physical Medicine. After entering private practice, Dr. Sears was one of the first to be board-certified by the American Board of Anti-Aging Medicine.
He is also board-certified as a clinical nutrition specialist and a member of the American College of Sports Medicine (ACSM), the American College for the Advancement in Medicine (ACAM), the American Medical Association (AMA), the Southern Medical Association (SMA), the American Academy of Anti-Aging Medicine (A4M), and the Herb Research Foundation (HRF). Dr. Sears is also an ACE-certified fitness trainer.
He currently writes and publishes the monthly e-Newsletter, Confidential Cures and daily email broadcast, Doctor's House Call, and contributes to other publications in the field. He has appeared on over 50 national radio programs, ABC News, CNN, and ESPN.
Since 1999, Dr. Sears has published 15 books and reports on health and wellness with a readership of millions spread over 163 countries.
Healing Herbs of Paradise is available now on alsearsmd.com for $59.95