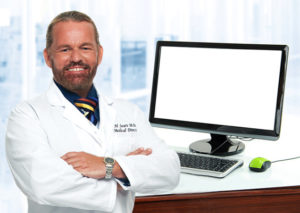 I recently started practicing "telemedicine" with my clinical team at my Palm Beach Institute for Anti-Aging Medicine.
It's the same doctor's visit experience as you've always known it… with one big difference.
It takes place over a secure, two-way video platform.
All you need is a computer, smartphone, or tablet with a webcam and an Internet connection. That's it.
If you've used videoconferencing at work or used Skype to chat with your friends or grandkids, then you know how easy video chat can be.
Telemedicine allows me to bring my cutting-edge anti-aging therapies to anyone, anywhere – using the safe, secure platform at eVisit.com.
Here's how it works at my clinic…
You call us to make an appointment.
You register online at eVisit.com and fill out a comprehensive health questionnaire.
You log on to eVisit for your appointment.
It's that simple. When your appointment arrives, we call you. Your doctor's visit happens at the click of a button.
Through eVisit we can see your physical condition and symptoms firsthand. We can also schedule the required diagnostic tests and electronically submit prescriptions to the pharmacy of your choice.
And together, we create a comprehensive wellness plan that's customized just for you.
Plus, all of your test results and records get sent directly to us. We manage and coordinate every aspect of your care – just as we would if you visited our office.
And the eVisit platform uses the latest security technology to make sure your patient data is private, secure and 100% HIPAA compliant.
With telemedicine, you have access to the same anti-aging and integrative medicine services that all of my clinic patients do, including breakthrough cancer treatment therapies; heart disease, lung disease, diabetes and Alzheimer's disease treatments; arthritis relief; male potency and testosterone restoration; and energy restoration programs.
What was once hundreds (if not thousands) of miles away has been brought right into your home.
To find out how you can look better, feel younger and maintain your vitality, independence and mobility, call my clinic at 561-784-7852 to schedule your eVisit appointment today. My colleagues and medical staff are waiting to hear from you.
The future of medicine is here. And it's happening the same way the best health care always has: face-to-face between doctor and patient.
To your good health,



Al Sears, MD, CNS